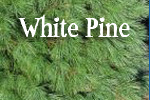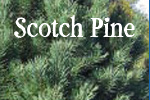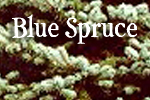 For larger images of the tree types, click here.
Balsam Fir
Truly a superb Christmas tree. Its distinctive 1/2″-1 1/2″ long dark green needles are soft to the touch. The aroma is uniquely fragrant. Its branches are layered and can support a variety of ornaments and decorations.
Fraser Fir
A beautiful Christmas tree. The soft to the touch needles are flat and short, 3/8″-1 1/4″ long with rounded tips and a silvery underside. The dark green color and pleasant fresh-cut aroma make this a frequently requested tree. Great needle retention.
Canaan Fir
Similar in appearance to the Balsam fir, its needles tend to be about one inch in length and vary more in color. The foliage can often be similar to the appearance of the Fraser fir. Relatively new to the Christmas tree industry.
White Pine
A beautifully shaped Christmas tree. The lacy blue-green needles, 2″- 4″ in length, are graceful to the eye and soft to the touch. It has a delightful pine fragrance and excellent needle retention. Lovely when decorated with light ornaments.
Scotch Pine
A lovely bushy and full tree with 1″-3″ stiff needles. Clusters of needles fill every branch with dense foliage. Colors on the conical shaped trees vary from green to blue-green. A very popular Christmas tree.
Colorado Blue Spruce
Blue spruce is finding increasing popularity as a Christmas tree as a result of its symmetrical form and attractive blue foliage. Needles are 1″ -1 1/2″ long on lower branches but somewhat shorter on upper branches. Needle retention is among the best for the spruces.
Real trees take special care – click here for more information.
For tree pricing, click here.

Open daily 9am-5pm, November 1-December 24 (including Thanksgiving!)
Dogs Welcome on a leash!